Pictured above: 2023 senior Jackson Bearman plays third base in the team's 2022 game at Parkview Field. As part of last year's 26-3 team, Bearman hit .312 with 24 RBI, which was second on the team.
MONROEVILLE, MARCH 28, 2023 - The Heritage baseball season begins today, with the varsity on the road at New Haven and the JV playing the Bulldogs at home.
Last year the varsity squad went 26-3, won conference, and was the sectional runner-up. Meanwhile, the JV had their first ever undefeated season! Can this year's boys repeat or even build on that success?
Looking ahead to the season, sophomore Cameron Rauner said, "I think this season is going to be an interesting one. We are very young this year, but that isn't necessarily a bad thing. Our pitching isn't going to be as strong as it was last year, but I still think we will be a well oiled machine, a very good season overall."
This year there are collectively 23 players: four seniors, seven juniors, five sophomores, and seven freshmen. Cuts were not made since numbers are down.
The future looks bright, though, for the Heritage Patriot baseball organization. On Saturday, March 4, kids from the Hoagland Youth League and Monroeville Youth League attended a clinic put on by the Heritage team. There were three sessions: one for 8u, 10u, and 12u.There was an astounding total of 53 kids that attended the clinic.
The returning seniors–Morgan Andrews, Jackson Bearman, Dalton White, and Tyler Redmon–are a vital part of the team this year. Also, though they lost two of their star pitchers (Dalton Wasson and Christian Hoffman) from 2022, the pitching staff has increased in size, due to the junior class having a lot of pitchers, and there are 6 pitchers that can throw at least 80 mph.
Senior Tyler Redmon said about the season, "I think the biggest struggle for us this year will be the lack of confidence some of our players have. I think we'll be just as good as last year because we have a bunch of guys that want to win. I think we'll be at the top of our conference. We have a lot of talent; we just need to use it right."
Officially, baseball practices started Monday, March 13. Workouts for those not in a winter sport started way back in January. Limited to two days a week, coaches Dean Lehrman, Derek Lehrman, Scott Lewis, Mike Hoffman, Dan Wasylk, and Jeremy Hullinger help the guys be successful. This time was spent building good technique for both hitting and fielding, increasing arm velocity, and bat exit speed.
The boys had a scrimmage against Bishop Luers on March 22, but it was canceled due to rain so the team enters today's regular season opener relying on those practice opportunities.
With 28 games before the sectional, the boys look to win as many as possible and compete for a sectional championship. They'll have to go through tough sectional rival Norwell. In conference, Adams Central and Bluffton will be tough competitors as well.
The varsity's next games after today are at Van Wert on April 6 and home against Concordia and North Side on April 10 and 12.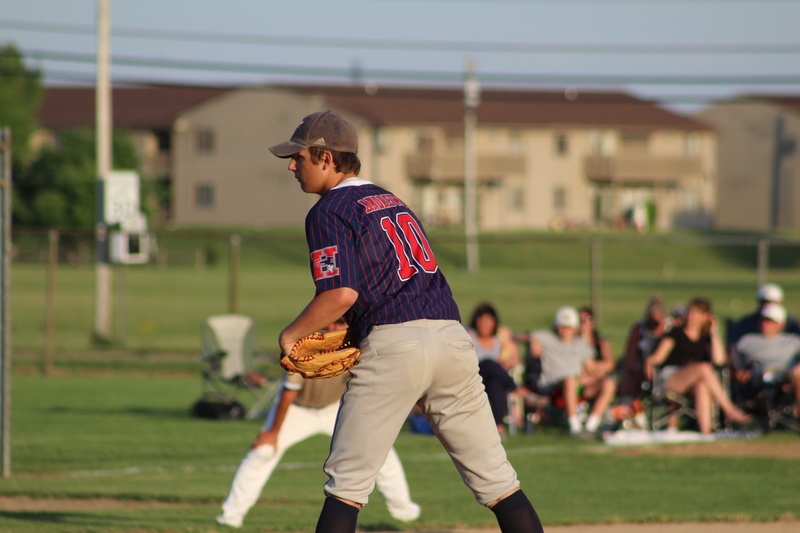 2023 senior, Morgan Andrews pitches during the 2022 sectional. The senior will be a key to the 2023 team's pitching success. Andrews signed with Anderson University to continue as a pitcher in college. In 2022, he was 5-1 with a 2.94 ERA, pitching 33 innings with 49 strikeouts.