Photos by Luke Stroh
Above: Sophomore Braden Walter runs in a relay for the Heritage boys track team.
MONROEVILLE, APRIL 20: Entering the 2023 track and field season, head football coach Casey Kolkman stepped in to also take the reins of the boys track team, joining Coach Matt Smith who runs the girls program.
Kolkman said of the move, "I feel like the football program had a good relationship with the track program, and after Coach Parr resigned and nobody seemed likely to take the job, I felt it would be good for the school if I did it, not to sound egotistical."
In regard to the workload, he continued, "It has been a challenge for sure. Track is such a different sport for me, after years and years of football, but I am figuring it out. The obstacle is the way!"
The boys and girls teams competed in indoor meets at IPFW in March, which led to the Hoosier State indoor meet in Bloomington on March 25. The Pats' main highlight from Hoosier State was sophomore Charlie Riddle's 5th place finish in the shot put competition.
Entering the outdoor season, expectations are high for many individuals. Junior Maya Gerber is re-writing the Heritage record books in shot put and discus, after qualifying for the regional in both events as a sophomore. Senior Samantha Bristle qualified for regional last season in high jump, and Riddle as a sophomore in shot put, and senior Leviticus Land also qualified for regional last year in shot put.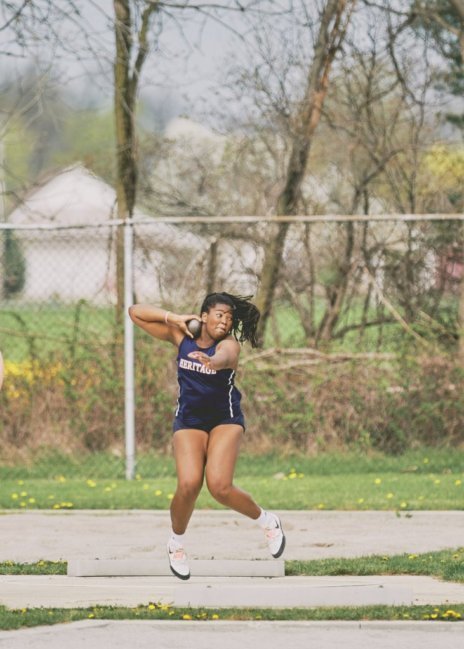 Gerber prepares to throw the shot.
In regard to his expectations for the team, Kolkman said, "Expectations are the same as every other team: be a great teammate and get better every day!"
On Saturday, April 15 the teams competed on their home track in the Patriot Relays. Seven total teams competed in the girls events and five in the boys, with both of the Heritage teams finishing second. The New Haven girls won the event, and Norwell's boys were victorious. The Patriots' individuals earned many highlights on the day.
Junior Piper Pierce placed first against 13 other jumpers in the long jump, with a jump of 15' 11".
Riddle won the shot put out of nine other throwers, with an impressive 49' 0.5".
Gerber won the girls shot put, setting a new school record (beating her own previous record of 40'1") with a throw of 40' 8", winning against 10 other throwers.
The girls 4 x 100 consisting of Pierce, Ava Pilon, Natalie Otte, and DiNestee Williams-White placed 1st with a time of 54.20.
Finally at the Patriot Relays, the girls 4 x 400 team, consisting of Pilon, Sydney Castleman, Williams-White, and Rosalinda Medina also placed first with a time of 4:29.68.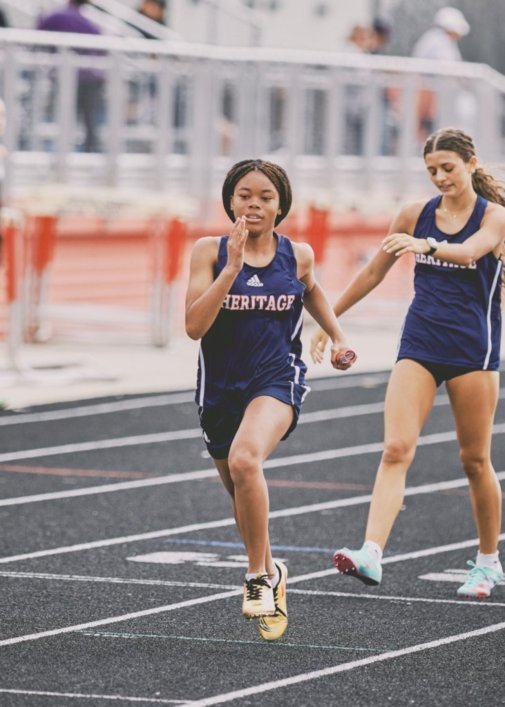 Williams-White takes off with the baton during the girls 4x400 relay.
The teams then had a tri-meet with Southern Wells and Adams Central on Tuesday, April 18. The girls scored 89 points, easily beating both Adams Central (49) and Southern Wells (18). The Heritage boys also won handily, scoring 99 points, with Southern Wells scoring 36 and Adams Central scoring 18.
On the girls side, Pilon won the 100m high hurdles with a time of 17:01, and Pierce won the 100m with a time of 12:09. The girls 4x100 relay team, consisting of Pilon, Williams-White, Natalie Otte, and Pierce, also finished first, and Williams-White and Medina finished first and second, respectively, in the 400m. Pierce and Williams-White also finished first and second in the 200m, with times of 28.7s and 30s, respectively.
In the field events, Pierce won long jump, with a leap of 15'5", and Otte and Gabriella Roussey finished second and third. Gerber won shot put, with a throw of 37'9 and ¼", and Maddie Scheumann was second at 28'10". Gerber, at 115'7", Scheumann, and junior Leyna Nagel also finished in the top three places, respectively, in the discus event.
For the boys, senior Derrick Bates won the 100m high hurdles, with a time of 16.6s and the 300m intermediate hurdles, with a time of 45.6s. Junior Ian Hale won the 100m with a time of 11:01, and sophomore Marshall Harris won the 200m, with a time of 24.5s, and also the 400m with a time of 53.79. Junior Jaxon Hoting won the 3200m, with a time of 11:10. The Heritage team also won the 4x400 relay.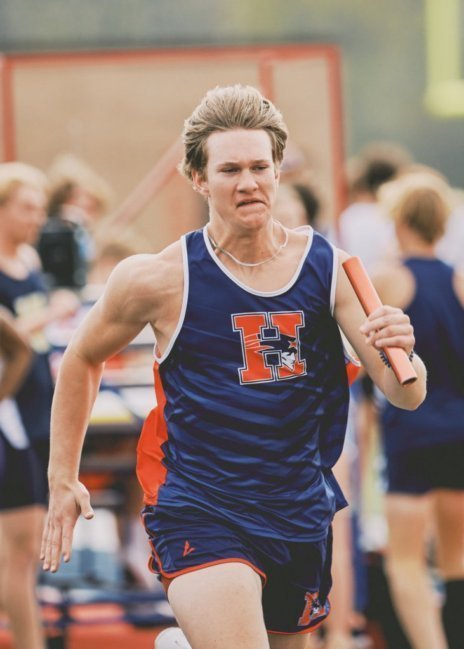 Sophomore Greyson Mullins runs in a relay.
In the field events for the boys, sophomore Braden Walter won the high jump, with a jump of 5'4", and he also won the long jump with a distance of 18'5 and ½". Heritage's Landon Hicks (17'7") and Ibrahim Williams (17'6") finished second and third in long jump.
Senior Leviticus Land won shot put with a throw of 47'2 and ½", and Riddle was close behind in second at 47'1 and ½". Riddle finished second in discus with a throw of 132'11".
Looking ahead, the boys team is in action with the Heritage Relays on Friday, April 21, and both teams compete at Jay County on April 25. The teams also are set to compete in the New Haven Relays on April 28.
With plenty of success early in the season, Kolkman said, "I am [enjoying the new role]. It is taking some getting used to, like I stated before, but I love coaching, and I love our athletes here at Heritage. The effort and determination put forth by so many has been a pleasure to be around. It's going to be a great season! Not to mention the awesome coaches I work with: Smith, Tigulis, Habisch, Klingenberger and Amstein, all do a great job!"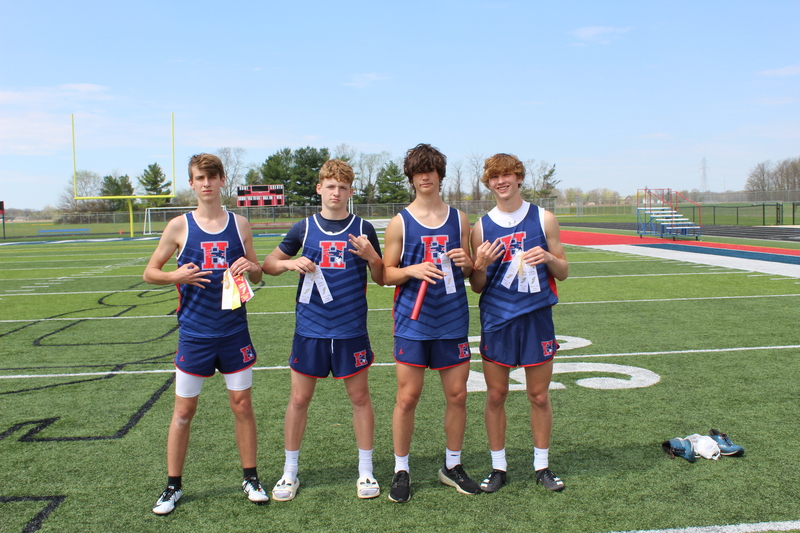 Harris, Lucas Weber, Eli Tigulis, and Walter celebrate their placings at the Patriot Relays. Photo by Mohammed Esarhaek.