Article by Ethan Meyer, Heritage Journalism
Photos by Eli Pilon and Maddox Warren, Heritage Journalism
Students use the improved weight room during the school day.
MONROEVILLE, IN - The weight room underwent a transformation over the summer, receiving a few much needed upgrades. The room received a new floor, layout, and an expansion into the old wrestling room.
According to Principal Rebecca Christensen the previous weight room, "looked terrible and the kids deserved better." The PE/Health department and Christensen worked together the past two years to get this project approved by the district.
Over the summer, the school enlisted the help of the football team to help clear out the old weight room. The team moved the equipment and old floor into the area that was previously the wrestling room.
The new floor is one solid piece and covers the entire weight room floor, as opposed to the previous floor which was made of various individual rubber mats, which covered only a portion of the room.
The new single piece floor design allows for various layouts of the weight equipment to be used and changed throughout the years to come. According to head football coach, Casey Kolkman, the new layout is superior because it allows for a more efficient workout and allows space for agility training.
In the near future the room is also set to receive new racks and bars.
"It was about time for a renovation… I was most excited about the new layout," commented Preston Fields, a captain on the football team.
"There is a lot of extra room and I like that. More room to get buff," said Zane VanOsdale, a cross country runner.
According to Athletic Director, Mr. Tim Burton, now that the former wrestling practice space is re-purposed for weights, the wrestling team now will have the upper deck in the gym for practice. They will have that space to themselves, rather than also having to share space with the weight room. The new space for the team is better because it is larger and is closer to the wrestling office and storage.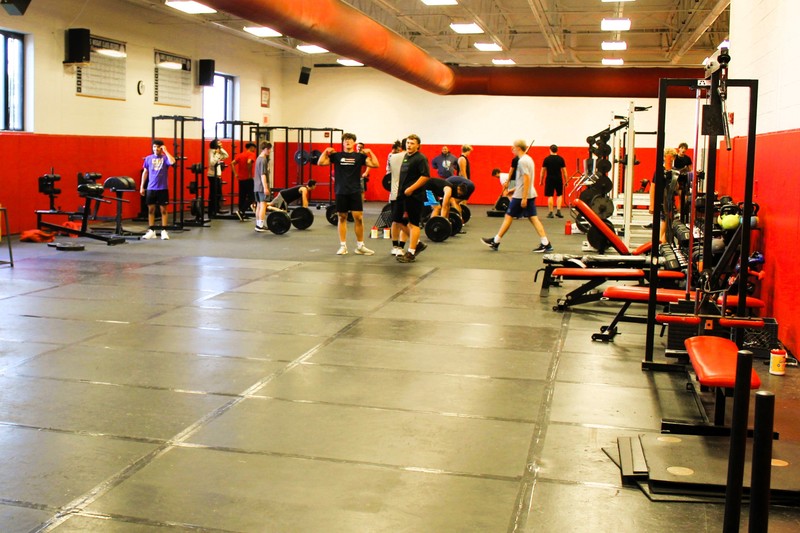 This view is from the end of the weight room which was previously occupied by the wrestling team. This open space is now used for agility work, which requires more space for movement.