Pictured above: Olivia Minnich, Elizabeth Buuck, Natalie Otte, Aubrey Stoll, and Alexis Bremer pose together after the ACAC Tournament which was held at Celina Lynx Golf Club on Sept. 9.
MONROEVILLE, IN - This Heritage girls golf team recently finished their season with their sectional on Friday, Sept. 15.
Although the relatively inexperienced and young team did not bring home any accolades as a team this year, Coach Amanda Minchski said, "[The team] did really well. Things really clicked for many kids as the season went on."
A major focus of the season was that Minchski wanted to help the team's mental health as they went on the tough courses, with the goal of players being able to keep a cool head if they weren't satisfied with results.
As the season went on, the team worked to break 200 on nine hole rounds, meaning that the combined score of Heritage's top four golfers was below 200. The top four of Natalie Otte, Alexis Bremer, Elizabeth Buuck, and Olivia Minnich accomplished that feat for the first time on Aug. 29 at McMillen in a match against Prairie Heights, and then they did it again on Sept. 11, as they defeated Fort Wayne Wayne at McMillen. They were all very ecstatic about the achievement and they even went on to do it multiple times. As a reward for it, Minchski wore glitter to make the team happy.
As examples of the team's improvement throughout the season, just weeks before achieving the goal of breaking 200, the team had scored 216 and 217 on Aug. 4 and 7 at McMillen, and they shot 241 at Whispering Creek on Aug. 9.
Otte, a senior, led the team with a 9-hole average score of 47.8. Her season-best score was a 42 at McMillen against North Side.
Bremer, a junior, also performed well, with an average 9-hole score of 53.5, but she also proved the ability to go low with a season-best 42 of her own at Arlington Park Golf Course in the team's final regular season match against Blackhawk Christian.
The team's ACAC Tournament went very well, finishing third out of seven teams. With a score of 413, Bluffton easily won the even, but the Lady Patriots at 454 were only five strokes away from topping the 450 of South Adams for 2nd place. Otte and Minnich led the team on this day with 18-hole scores of 102 and 108, respectively.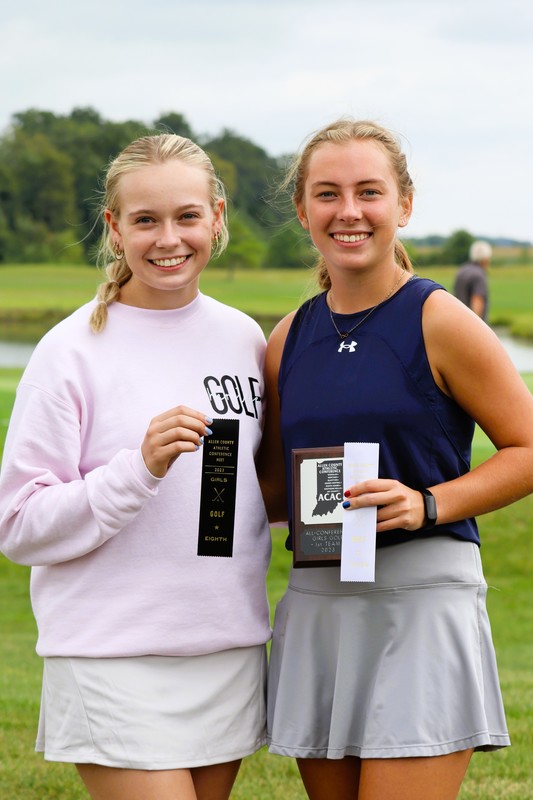 Minnich and Otte pose with their ACAC accolades.
Unfortunately the team wasn't pleased with the results of the sectionals. The course was much harder than any they had played beforehand, and the team had to step outside of their comfort zone for this one. Minchski said, "The sectionals were tough. The course was definitely harder than any they had played."