The 2022-2023 volleyball season started out strong going 5-0, before losing two consecutive matches to Carroll and Concordia. They then went on a 24 match winning streak, including winning the ACAC regular season title and the conference tournament.
The team ultimately finish with an impressive record of 29 wins and only three losses.
The program has won the ACAC regular season five out of the last six years and the ACAC Tournament for five consecutive years.

During this season, the team went through adversity. Because the high school gym flooded, they had to practice and play their games in the Heritage junior high gym or at St. Rose.
The team was led by six senior players, along with senior manager Kallie Roth. The players were Kate Zellers, Alyson Stinson, Kendall Zelt, Claire Bickel, Carley Bonar, and Avril Litchfield.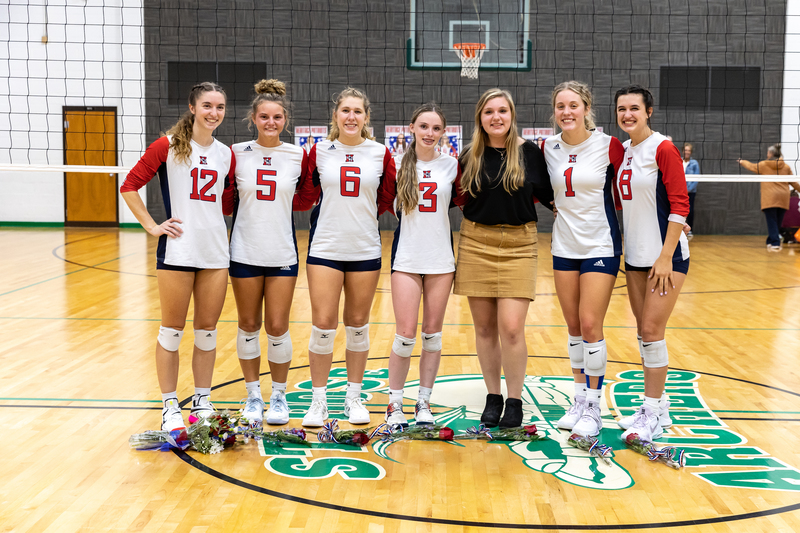 Seniors: Stinson, Zelt, Bickel, Bonar, Roth, Zellers, and Litchfield
Senior leader, Claire Bickel said, "This team has been through a lot this season. Each practice we got better and better. I am proud of how far we have come and how much we have accomplished."
Sectionals started out with a bang, defeating the Woodlan Warriors at Leo High School in five sets. The first set was won in a close battle, but the ladies pulled out the win 25-23. The Warriors took the second set 17-25.
After the second set loss, coach Shelly Schwartz got the team fired up. Then the Patriots take the third set 25-16. Woodlan won set four, but then the Patriots bounced back with a set 5 win to seal the victory 15-6.
After the win against the Warriors, the Patriots took on the Angola Hornets. The Hornets were a tough matchup for the Patriots. The Hornets were 29-0 prior to the sectional match, only losing one set in the entire regular season.
In the first set, the Patriots came out strong and took the win 25-23. However, the Hornets then won three straight sets to win the match, and they also went on to win the sectional championship later that evening.
Senior Avril Litchfield said of the season's end, "Although it was a tough loss and an end to the season, I wouldn't have wanted to lose with any other team. The never-ending support from this team made the season worth every win and loss. So proud of how far we came."