Click the following link to see the full December issue of the Patriot Post news magazine: https://5il.co/1m2uc
Click here for the OCTOBER print: https://5il.co/1m2u6
You can find prints of the magazine at various businesses in Monroeville and Hoagland.
CHRISTENSEN SETTLES INTO PRINCIPAL ROLE
By Jessica Rohrbach
In mid-October 2021, Mrs. Becky Christensen became the new principal of Heritage Jr./Sr. High School.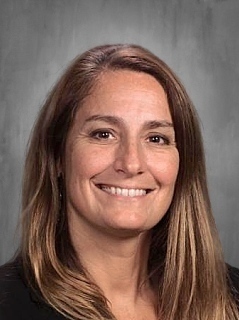 Mrs. Christensen grew up in Lansing, Michigan. She earned her undergraduate education at Olivet College, with an Elementary Education degree with a social studies major and a science minor. Christensen later earned her master's degree from IPFW in Educational Leadership. She taught middle school for all of her five year teaching career, even teaching science at Heritage Junior High for three years.

Christensen was then an instructional coach for EACS at Heritage, New Haven, and Woodlan, leading up to becoming an administrative intern at Woodlan for two years and an assistant principal at Portage Middle School for two years. As her final step before arriving at Heritage, she was an assistant principal at New Haven High School for four years, leading up to earning the principal position at Heritage.

As Mrs. Christensen has settled into her leadership role with Heritage now, with more than a year on the job, we checked in with the principal to gain her perspective about how things are going at school and to learn a little more about her.

In regard to the adjustment from being an assistant principal at New Haven to being principal at Heritage High School, Christensen said, "There are a lot more expectations in becoming principal, and it takes a lot more balance. As an assistant principal, I knew more about the kids. Here, it's more difficult to balance helping the teachers perform to the best of their abilities, while also helping the students and trying to learn more about them."

Another thing that she mentioned that was new to her is that she ultimately has the final say in certain decisions now that she is the principal.

Reflecting on her first year at Heritage High School and the changes that she saw, she said, "I enjoyed the year and getting to know the students. It feels like there is less interaction with the kids [as the principal], which is the hardest part. It was hard coming in at the end of the first nine weeks and trying to do everything at once.
I am most proud of the culture of being proud to come to Heritage. I am big on letting everyone know that they have a positive place in the world. The student behavior is better, which is something that I have been very proud of. When I first got here, I didn't see many smiles. Now, I see kids laugh more in the hallways."

Speaking of the current school year and on-going goals, she continued, "My primary goal was to create a culture that staff and students are proud to be a part of, and that they feel supported by not just myself but by all of the people in this office - that everyone chips in to make it great for everyone."

Outside of school, Christensen shared that she enjoys "hanging out with my family and friends and watching sports. I also enjoy biking. I live in New Haven and bike to Downtown Fort Wayne and back. My dog just passed the dog training to become a therapy dog after a year and a half. I am an outdoors person from Michigan and enjoy watching Michigan State games. I enjoy beating my husband in Sequence. I love camping, and I would like to park [to camp] in a Walmart parking lot at least once."

When asked "If you could have dinner with anyone dead or alive, who would it be and why?" she said, "My 'dead' answer would be Jesus. My 'alive' answer would be Rob Dyrdek. He is my friend and doesn't know it. I love his shows. I think he is super funny and has an exciting life. He seems to enjoy life."

Finally, as a message to all students, she concluded, "The world is waiting for your contribution, you just have to work hard to get there. No good things come easy. You have to work hard to contribute, and hopefully it's positive."