PHOTOS BY LEVERAGE PHOTOGRAPHY
Search Leverage Photography on Facebook and Instagram.
Clad in bright pink uniforms, the Heritage Patriots boys basketball team won in dramatic fashion over their rivals, the Woodlan Warriors, on Friday evening, Jan. 20.
This was not only a special night because it was Heritage's biggest rival, but it was also Pinkout night, as the team worked to help in the fight against cancer.
The team and their parents prepared items before the game to auction off, such as a team calendar signed by the players, a special pink out shirt signed by the whole team, and various gift cards. There was also a Vera Bradley bundle up for auction and a set of tickets for an upcoming Pacers game. Fans also had the opportunity to give free-will donations. In all, over $1,000 was raised.
The night's proceeds will benefit both the Vera Bradley Foundation and Grace college basketball player, Hagen Knepp. Knepp was diagnosed with appendiceal cancer and underwent his second surgery to fight the cancer on Jan. 12.
You can read Hagen's story here: https://sportsspectrum.com/spo...
Coach Gray said of the experience, "It was very cool how our boys' mothers put in a lot of work with the raffle and decorations, and we ended up raising $1,100, which was really cool."
The night was made even more special by the game itself. The entire game was neck and neck, with both teams trading buckets and making big plays. The game went to OT, and in the final seconds of the game, with the score tied at 54, Heritage senior Luke Saylor hit a stepback three pointer as the buzzer sounded, winning the game for the Patriots 57-54.
Saylor led the Patriots on the evening with 23 points, 4 rebounds, and 5 steals. Junior, Kobe Meyer had 13 points and 3 assists.
The atmosphere was electric and the student section stormed the court as the crowd went crazy.
One of the Heritage Patriots basketball's biggest fans, junior Preston Fields said, "The game was entertaining from start to finish. The players and the fans brought a different type of energy to beat our rivals, Woodlan. The big game ended perfectly with all of the students storming the court after a buzzer beater from Luke to win the game. This was the most memorable game I've been to by far."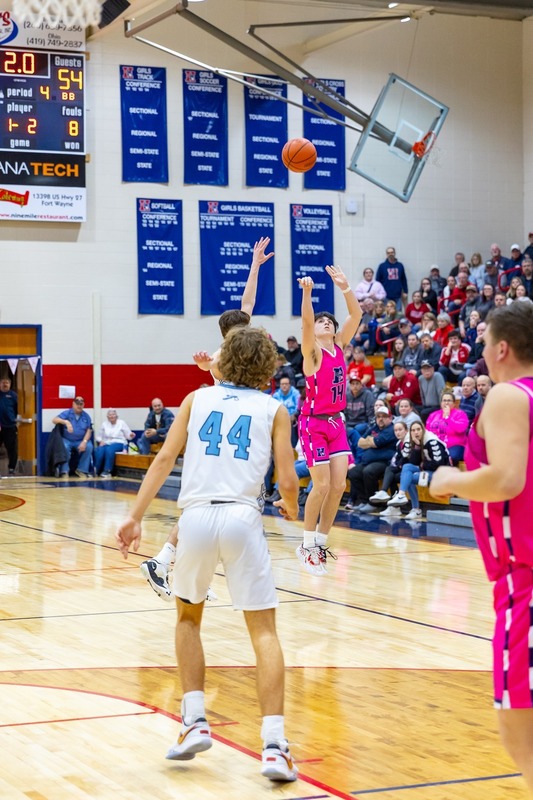 Saylor hits the step back three pointer from deep, as time in overtime expires.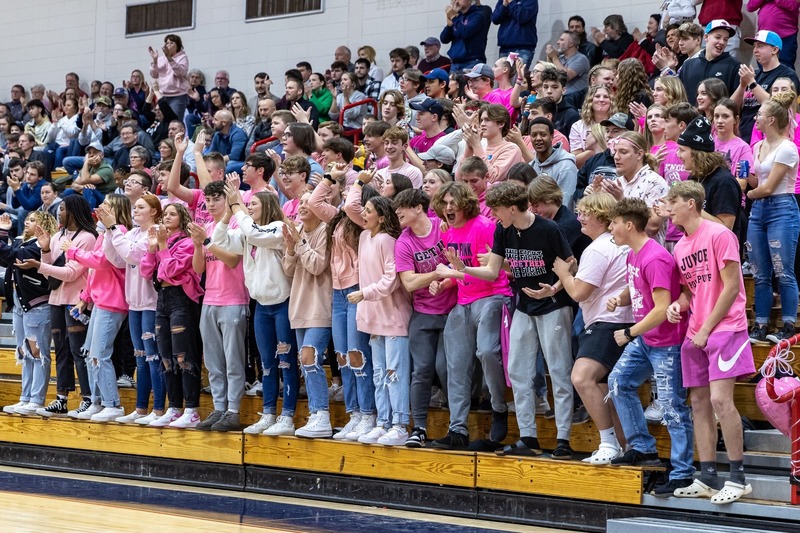 The Patriot crowd was pumped during the action-packed game, before flooding the court after the game-winning shot.