Photo (above) with players and teachers provided by Lois Ternet of the Monroeville News
With the Heritage Boys Basketball season being nearly three quarters of the way finished, the team celebrated Teacher Appreciation Night at its game against Bluffton on Saturday, Feb. 4, as a way to recognize and show appreciation for some of the teachers and staff who have helped the players become not only better students, but better people.
Mrs. Gail Alexander, the long-time junior English teacher who is retiring at the end of this school year, was nominated by senior Howard Kaiser, and she said of the honor, "I think being selected for anything by a student is one of the biggest honors a teacher can have. Our whole purpose here is to help students, and to have them realize and recognize that we are here for them is a big honor."
Before the varsity game began, following the JV contest, the teachers were called out to the gym floor, and each student-athlete gave his chosen teacher a picture of the team with the players' signatures. The announcer read a statement from each player, stating why he had chosen the teacher to be honored.
Mr. Casey Kolkman, football and track coach and history/PE teacher here at Heritage, was selected by junior Caleb Abbott, and Kolkman said, "It was a very cool thing. I love seeing lots of teachers and faculty at the games supporting students. Having kids pick a teacher that has helped them out during their high school years is a cool thing that shows lots of appreciation. Having it done at a different setting, during a basketball game, was also an awesome thing."
It was a dominant effort on the court for both the JV and varsity teams. The JV team won handily in the first game, and the varsity team pulled ahead early and never looked back, as Luke Saylor led with 28 points, and the Patriots defeated the Tigers 77-52.
The varsity improved their record to 10-7 on Teacher Appreciation Night, and they are also tied for second in the ACAC with Jay county with a 4-1 conference record, while Adams Central sits atop the ACAC at 5-1.
The Patriots fell to the Norwell Knights on Tuesday Feb. 7, leaving the Patriots at 10-8, and they have their final ACAC game on Friday, Feb. 10, at Jay County with tip-off at approximately 7:00pm.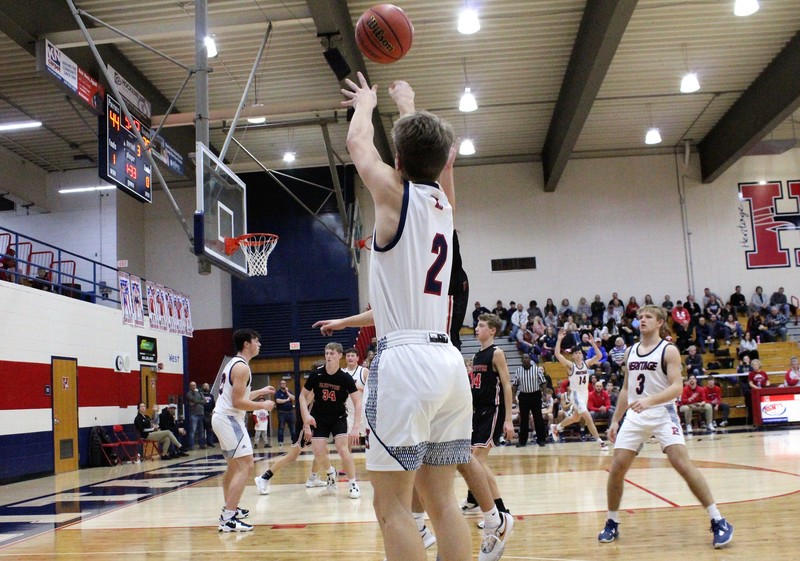 Senior Nyles Knapke shoots a three pointer in the game against Bluffton. He had six points and nine assists in this game. Knapke leads the team with a four assists per game average and also contributes five points per game on average.